Before I get into today's recipe, I have to share that the
party
we threw this weekend was a huge success! It was a surprise 60th birthday party for John's Dad and the largest party in our house thus far. There may have been mustaches, jungle juice, and a large quantity of BBQ in attendance. In short, it was a total blast! And don't worry, I'll share the
cupcakes
I baked soon enough.
Summer may be officially over, but I'm not ready for sweater-weather yet. Scarves and pumpkin spice lattes, yes. Legitimate jackets, no. We still have all sorts of tomatoes growing in our garden, so why not put off welcoming Fall a few days longer?
Bruschetta is seriously easy to make and is the perfect way to use our bumper crop of cherry tomatoes. It's also super versatile. We topped a warm and crusty baguette with bruschetta for a quick dinner, but you can also top chicken or other meats with it. I've also served it as an appetizer. Provide something to dip with and you're good to go!
Bruschetta
Ingredients
Cherry, grape, or tomatoes - about a pint
Handful of basil - rough chopped or sliced in a
chiffonade
2 to 5 cloves of garlic, minced. (Add to taste. We love garlic, so I used about 5 cloves.)
Salt and pepper
Sliced baguette
Olive oil
Directions
Quarter cherry tomatoes and place in serving bowl. If you use larger varieties of tomatoes, dice them.
Add the chopped basil and minced garlic to the bowl of tomatoes.
Season with salt and pepper.
Serve with a sliced baguette. Drizzle with olive oil if you'd like.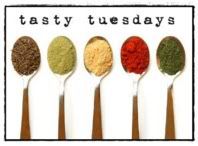 Pin It